About Pitt & Grûv
Discover the inspiring journey of Jess and Nathan – a dynamic dental duo turned scrub pioneers.
Passionate about redefining workwear, Pitt & Grûv unites fashion, function, and quality in every stitch. Elevate your professional style with us.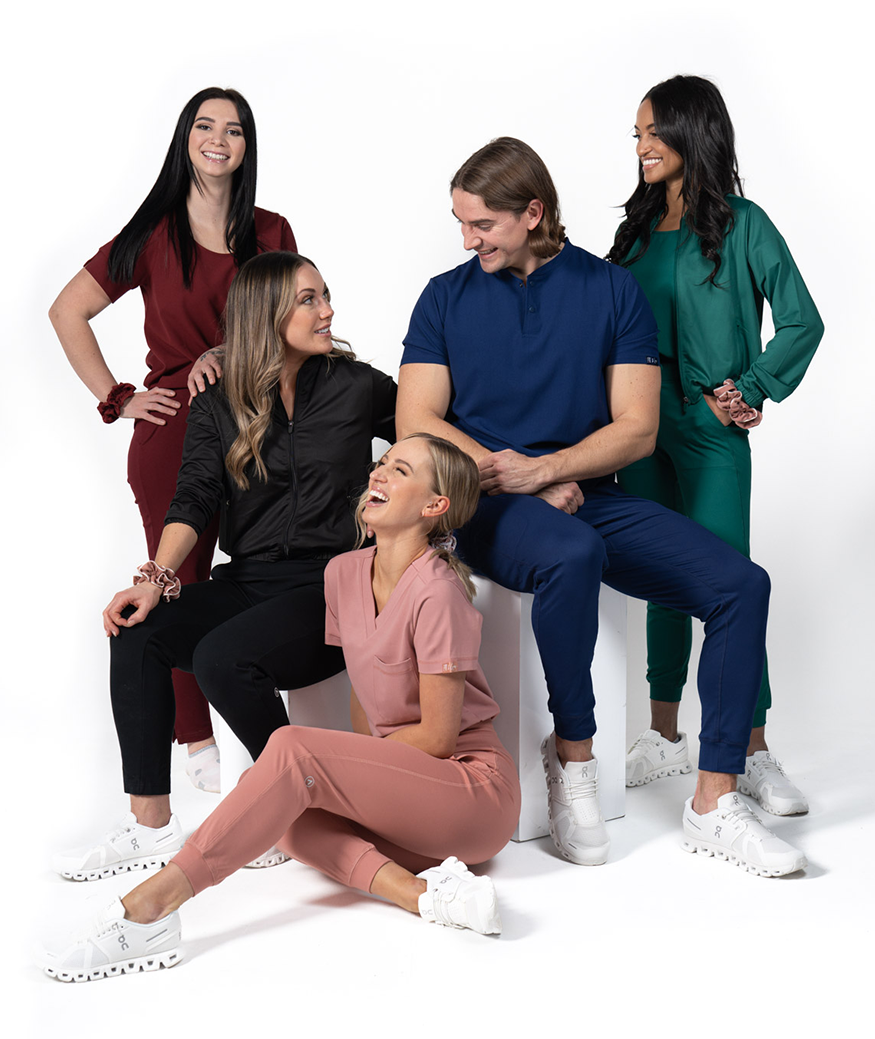 Our Story
We are Jess and Nathan, a husband and wife pair of dentists from Brandon, Manitoba with a passion for helping others, staying active, and getting the most there is out of life! We met in physics class at the University of Manitoba in 2012 and went on to complete our degrees in Dentistry in 2017 and 2018. In June 2022 we got married and we currently live in Brandon Manitoba with our dog Winnie!
When the world changed in 2020, so did our outfits at work - we quickly moved out of our stylish dress clothes and into plain and stiff scrubs. After spending a year struggling to find the perfect set of scrubs (we like to wear a jacket and joggers!), the idea of Pitt and Grûv was born. Why can't scrubs move with us like our favourite activewear, have trendy cuts and styles like dress clothes and give us that instant confidence to be our best professional selves? They can! We decided to make it our mission to reinvent the standard of professional scrubs by uniting fashion, function and quality. As professionals who wear scrubs every day we are passionate about creating a product that will enhance how you feel and work everyday. Our goal is to help out our fellow Canadian health care professionals and put this all together in one easy place online. Be ready for something different than whats currently on the market, we are just getting started and have big plans for where we are headed.
3 fun facts about Pitt and Grûv
The Essence of Our Name: Pitt & Grûv pays homage to the intricacies of teeth, celebrating Jess and Nathan's dental origins. Like the pits and grooves they've navigated in their careers, Pitt & Grûv scrubs are meticulously crafted for excellence.
Antimicrobial Marvels: Each Pitt & Grûv item undergoes SILVADUR treatment, offering long-lasting antimicrobial properties even after 50 washes. Our scrubs prioritize your safety and well-being.
Models with a Mission: All our models are healthcare professionals themselves, embodying the ethos of our brand – real individuals who rely on exceptional workwear that supports their daily endeavors.